Shopping Basket
Your Basket is Empty
There was an error with PayPal
Click here to try again
Thank you for your business!
You should receive an order confirmation from Paypal shortly.
Exit Shopping Basket
Kaz waglands Dog walking and petcare
Well its been quite a while writing a blog i've been so busy with my doggie friends and loving it. I have some new dogs too ..well mostly puppies which is so nice as I see them grow up and they spend lots of time with me so they don't get lonely while there owners are out at work, they also make friends with the other dogs I walk so it gives the some social time and fun times.
The weather is getting better so lets hope we have a great summer !

I'm back walking after my little accident and now off my crutches.
I don't blame the dog that bashed into me and knocked me off my feet but I have learned to be a bit more alert while dogs are running free.
I have missed my dogs while not walking and I am so looking forward to giving them all a big hug.

Its been so nice getting to know and walk Ellie twice every day she is getting very good and loves her walks. She now walks with Red the lab and they get on so well together.
Lovely weather, great dogs what more could I ask for!

Well what can I say about these two...they are just so good to take out and they love me taking them a cross the fields.
Kip loves the ball and running in the long grass whereBow just likes sniffing and trying to find things in the grass and he's happy just trotting along!
Love these dogs and I know they love me too!
Spenser and Patch are such sweet dogs they love their walk so much.
Spenser is the sniffer and wants to find things in the long grass and Patch loves to just watch and trot alongside me.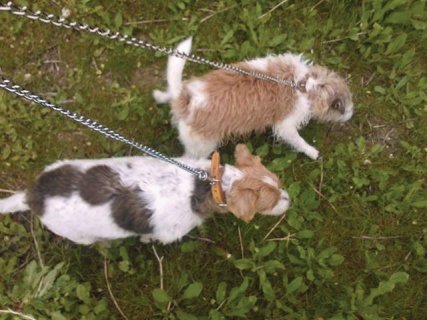 They have got to know me know and know why I go to their home they get so excited...no time to chat to their owners till they have been out!
Had a great walk today with kip and Bow Sun shining, fresh air what more could I ask for! Kip chasing the ball while Bow was sniffing a round ...Bow being Bow!
Came back to owners with two happy worn out dogs...the owners are very pleased with my services and have asked my to board Kip and Bow while they are away...I feel very lucky to have been given this chance to do something I really have wanted to do for so long!!
So Happy!
/